What If There Is No Tomorrow? There Wasn't One Today
February 2, 2017

"Okay, campers, rise and shine, and don't forget your booties 'cause it's cooooold out there…"

Because it's a frigid 16-degree Groundhog Day here in Minneapolis, this famous line from the movie Groundhog Day feels like an appropriate way to kick off this post.

Growing up, Groundhog Day was always the odd holiday we celebrated in elementary school for whatever reason. I was never really excited about it unless there was a cool art project involved, like making a super-cool groundhog mask.

Once I was older however, I started to take part in my family's annual screening of the movie Groundhog Day, and I had a newfound appreciation for the holiday — only because it meant watching the movie together and quoting our favorite lines to each other all day via text or email.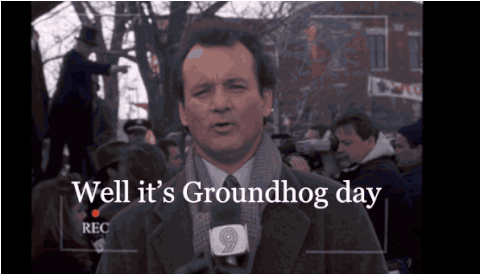 In the interest of recognizing this national holiday, or perhaps more importantly, celebrating this classic, thought-provoking, culturally important Bill Murray movie, here are a handful of fun facts about the film:
Bill Murray was bitten by the groundhog twice during shooting. Murray had to have anti-rabies injections because the bites were so severe.

Director Harold Ramis stated that the original idea was for Phil to live February 2nd for about 10,000 years. In actuality, Phil probably lived the same day for about 10 years.

Bill Murray was offered a spit bucket for the diner scene where he gorges himself on pastries but he refused. The angel food cake in particular caused him to feel sick soon after.

Director Harold Ramis originally wanted Tom Hanks for the lead role, but decided against it, saying that Hanks was "too nice".

Bill Murray and Harold Ramis have both been honorary Grand Marshals for the Groundhog Day celebrations in Punxsutawney, PA.
While Punxsutawney Phil saw his shadow today, dooming us all to six more weeks of winter, hopefully we all wake up tomorrow and it's February 3rd.
"You want a prediction about the weather, you're asking the wrong Phil. I'll give you a winter prediction: It's gonna be cold, it's gonna be grey, and it's gonna last you for the rest of your life."