Fast Horse, This Is Carlee! How May I Help You?
September 29, 2015

Hi friends, family, and Fast Horse followers! I'm Carlee, the new receptionist here at Fast Horse, and this is my personal introduction from me to you! Shall we?

Let's start with places…

Omaha, Nebraska! Home(aha).
It's the place of my birth and the place where Cornhusker football is not a personal preference, but a lifestyle. Warren Buffett himself could live anywhere in the world, and even he chooses to live in Omaha. I'm telling you, it really is "the good life."
Okoboji. My favorite place on earth.
This past summer my family spent our 27th year on West Lake Okoboji, and I get just excited about vacationing here as I did when I was 10. Swimming, boating, Arnolds Park, getting a little too much sun — these are the things that make me the happiest in life. And you haven't lived until you've seen the sun set on West Lake.
People: Beyoncé, AKA Queen Bey.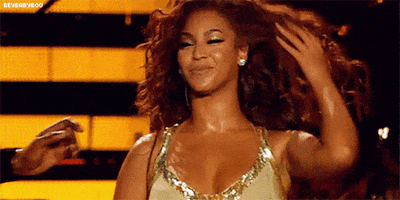 Yoncé is my spirit animal and there's no denying it. Whenever a Beyoncé song comes on I have to physically and mentally prepare myself (and those around me) for the amount of hair flips that are about to happen. She is the queen. End of story.
Things: Gilmore Girls
I am who I am because of Lorelai Gilmore. Caffeine, quick wit and even quicker banter are what I live for. The day all seven seasons were available on Netflix was the day I lost all touch with society, and I'm not even mad about it.
#MusicIsMyLife
Cliché, I know, but it really is. I graduated from McNally Smith College of Music this year with a B.A. in music business (aka bin'ess). You may have even happened to scroll across some (slightly awkward) advertisements online where yours truly is featured. Don't worry — I don't actually look like that when I'm singing — or at least I hope I don't!
Last but not least, Molly the Mastiff — named after Molly Hatchet.
I will never be a crazy cat lady (sorry to all the cat lovers out there!), but I will always be a dog lover. This is Molly, and she has been our pet for about six years. She's the sweetest, most loving dog ever — except if you are a stranger knocking on the door. Some might think Skyping your dog is a sign of insanity, but if loving your pet is wrong, then I don't want to be right.
That's all for now! Thank you to everyone for the warm welcome and thank you for calling Fast Horse — have a great day!